24 Musical Beats got a chance to interview DJ Iceman in regard to his new book, "The Business Of Beats: A Common Sense Guide For Selling Beats."
Q. Welcome to 24 Musical Beats! How are you doing?
DJ Iceman: I cant complain. Thank you for having me.
Q. Please tell us about your new book "The Business Of Beats: A Common Sense Guide For Selling Beats."
DJ Iceman: The Business Of Beats is something I came up with just from my experiences trying to sell beats online.

Q. What inspired you and motivated you to write this book?
DJ Iceman: I got tired of seeing producers getting the short end of the stuck cause they didnt full know about the business of music. I just wanted to see producers win for a change, and not have to deal ith all the fake "gurus" and "Superstar Producers" nobody ever heard of just trying to sell courses.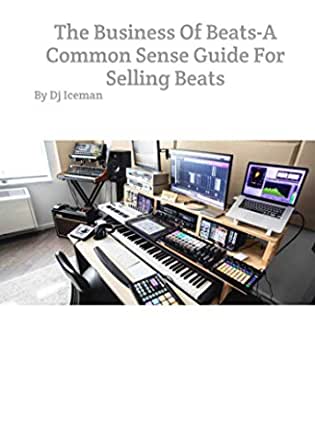 Q. Any advise or tips you would like to share with all the aspiring music producers out there?
DJ Iceman: LEARN THE BUSINESS!! Don't cut corners. And you don't need an artist or rapper to validate you as a producer. You can put out your on music as an artist, and be a self contained unit.
Q. What's next? Which books or projects are you working on now?
DJ Iceman: Whats next?? Hmm. I got a few beat albums coming out in the next few months, and im thinking about putting together another book.
Q. Finally, as we ask all our guests on 24 Musical Beats, do you have any closing thoughts that you would like to share with the world and our readers?
DJ Iceman: OWNERSHIP IS EVERYTHING!! you have to own and control all of your music and content. This is why knowing the business is so important. 99% of the people who got screed in this industry got screwed because they didn't own and control their content. The more ownership you have, the more you have to leverage with.
About the Author: Born in Coney Island Brooklyn in 1973, DJ Iceman took to music at an early age. He started DJing at age 9, after getting his uncle's old DJ equipment, and he's been an a tear ever since. In April of 2017, Dj Iceman embarked on a new journey as a beatmaker and thus Big Boss Beatz was born. using Native Instruments Maschine, Dj Iceman is crafting some of the best boom-bap golden era beats this side of Fort Greene. He is a member of the Wu-Tang Worldwide Dj Coalition, Ghetto Government Officials (GGO), Dirty Clanzmen, 144,000 The Chosen Few, Zu Bulliez, and Filthy Fingers United (FFU), And has done production for Havoc (Mobb Deep),Hell Razah (Sunz Of Man/GGO), Dungeon Masta,Judah Priest, Cuban Pete,and a host of others. When he is not Making beats he is running his label (Big Boss Records), his promo company (Big Boss Ent) or his web Social Media Marketng Firm (REA Social Media Management).
The book is now available on Amazon!