The story of Sophia Dias is the story of a survivor. It is also the story of a multi-talented artist who has made a name for herself as a designer, author, and singer. She has spent many years building her brand, while at the same time enduring the kind of hardship far too many women experience all around the world. Sophia has traveled all over the globe to share her trials and tribulations with others, and as a result, she has emerged as a beacon of hope to inspire people in similar situations to never give up.
"Bullet-Proof" is an appropriate title to symbolize Sophia's rise above adversity. It's the title of her written memoir and her new album. Sophia utilizes both music and prose to illustrate the pain she's gone through and the healing she's been blessed with in the wake of a decade-long struggle through an abusive home life. Now that the past is behind her, Sophia can reflect on it with the clarity of mind that one cannot simply obtain from the inside looking out.
Bullet-Proof – the album features seven tracks that paint a vivid picture of Sophia's former way of life. The book backs up this portrait, unfolding a tale of rags to riches to rags again, and the hopeful road ahead after all is said and done. The album was co-produced by Clive Hunt, and the songs were backed by some of the best musicians at Tuff Gong Studio in Kingston, Jamaica. This combination of talent gave Sophia the conviction to pour her heart and soul into every note and every lyric. She's forever thankful for the freedom she has to recount her path toward survival for anyone who needs to hear it.
Faith and determination are Sophia's keys to success. She can easily say with the utmost confidence that she's gotten to where she is merely because she never gave up. Through her grace and courage, Sophia Dias has developed the strength and the wherewithal to inspire this generation and beyond. Her story may be harrowing, but Sophia is content to keep the past in the past. While "Bullet-Proof" tells a dark history steeped in vitriol, Sophia insists it's a closed chapter in her life. She is more focused on the future because it is a future she has earned.
Sophia Dias is now in the process of developing a feature film based on "Bullet-Proof", capping off a would-be trilogy told through music, literature, and cinema. Sophia is working very closely with renowned writer Ranelle Golden on the script in order to create the most honest and authentic movie possible. Sophia is speaking her truth for everyone to hear in order to inspire others to speak theirs.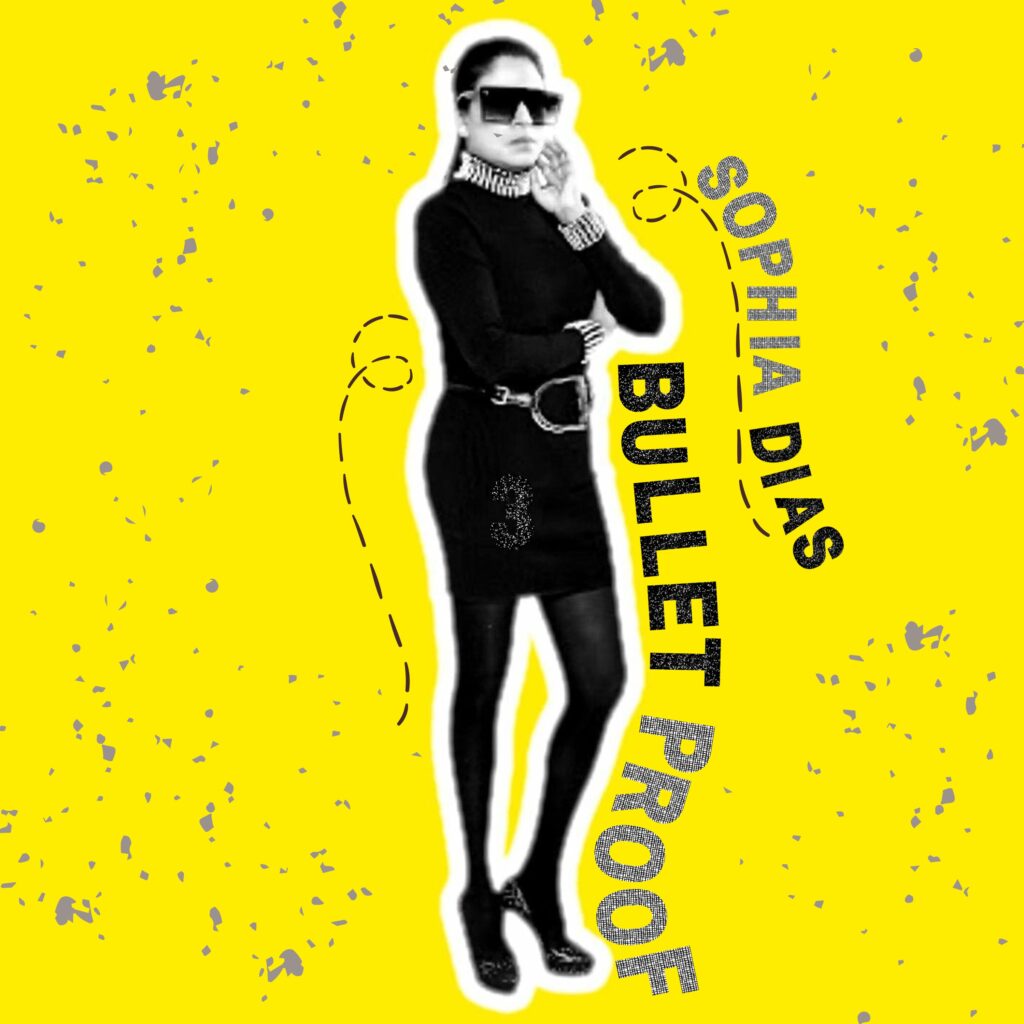 Bullet-Proof – the book is now available on Amazon, and the album version is available to stream on numerous music platforms.
You can click HERE to download Bullet-Proof – the album.