24 Musical Beats got a chance to interview author J.D. Toepfer in regard to his new book, Route 666: Highway to Hell. We got an insight into the source of his inspiration, his upcoming projects and much more!
Q1. Welcome to 24 Musical Beats! How are you doing?
J.D. Toepfer: Great. Thank you so much for having me here.
Q2. Please tell us about your new book "Route 666: Highway to Hell". The title itself is intriguing!
J.D. Toepfer: Certainly, Jack Aitken, the protagonist of Route 666, is an ordinary man whose hopes and aspirations for his family and himself have fallen far short of what he envisioned. Life's random twists of fate have caused Jack's dreams to be altered, postponed, or abandoned, one by one. Jack has played by the rules all his life, but living years on the knife's edge has drained him mentally and shattered his faith. But he has a plan to change the trajectory of his life!
Chasing his dream of becoming an author, Jack completely throws himself into researching Route 666, a road closed by the government due to an unusually high number of deadly accidents. Ignoring the warning signs and the pleas of his wife, Amanda, Jack uses an ancient map provided by a suspicious museum curator to search for a previously unknown Native American burial mound. Instead, he interrupts a satanic ritual and ignites a chain reaction of events that find Jack fighting his personal demons while in a life and death struggle with an evil being whose power rivals the devil himself.
Q3. What inspired you to write this book?
J.D. Toepfer: Believe it or not, Route 666 is an actual state road on the outskirts of Culpeper, Virginia. The first time I saw it, I was shocked. I never thought there would actually be a Route 666 anywhere, just due to the ominous overtones that the number has associated with it. I have passed by it a few times and always thought, "There is a story there." Several years ago, a story began to gel in my head, and Route 666 was born.
I also confess that some of Jack's struggles parallel my own. Writing this novel has been cathartic for me and helped me regain some of my self-esteem.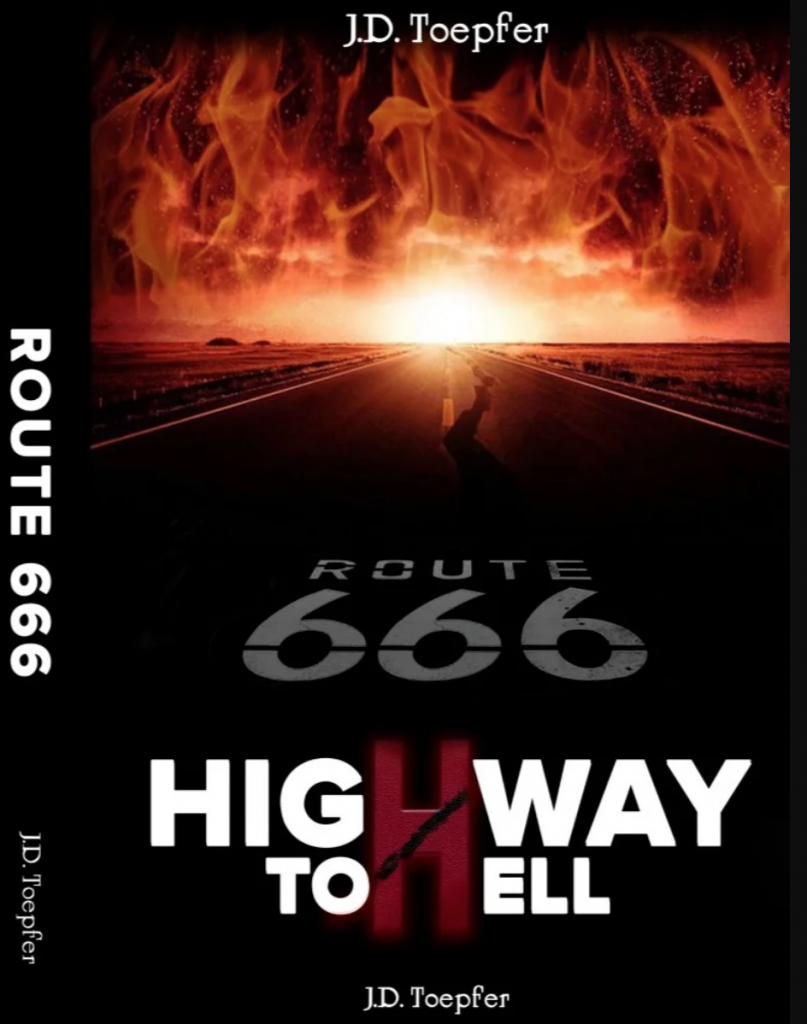 Q4. Any tips or advice for all the aspiring writers out there? Also, any daily writing mantra that you follow to stay creative?
J.D. Toepfer: I'm flattered even to be asked these questions, given this is my debut novel and I am a new author. I have been developing some content for my blog that I am tentatively calling J.D. Toepfer's Author rules. Several I've come up with so far are:
Write about what you know. It is easier to infuse your characters with attributes from people you know well. The same goes for setting scenes in places and locations with which you are familiar.
A good horror novel is one where no characters are safe. I tried to keep this first and foremost in mind while writing Route 666.
Blur the line between fact and fiction. Route 666 is a work of fiction, but events are referenced in the novel that actually happened. Several of the reviewers of Route 666 have emphasized how much they enjoyed this aspect of the story.
As for staying creative, I always keep pen and paper within reach. I can't tell you how many ideas have come to me while I was driving, gardening, or taking a walk. I want to be able to write those ideas down while they are fresh in my mind. I keep a drop file where I put these notes and reference them when writing.
Q5. What's next? Which book are you working on now?
J.D. Toepfer: About halfway through writing Route 666, I realized that I had far more material than I could use. This realization led me to the vision I am calling The Highway to Hell series. I've written the second installment and hope to begin the editing process soon. It is a continuation of what started in Route 666, but a greater over-arching theme involving Jack's children is introduced in the novel.
Q6. Finally, as we ask all our guests on 24 Musical Beats, do you have any closing thoughts that you would like to share with the world and our readers?
J.D. Toepfer: I turned 55 a few months ago and just published my first novel. It is never too late to act on a dream; you only need to tap the courage that lay deep within you to take that first step. If I can do it, you can too!
Thank you for your interest in my book and for having me here today!
About the author: Born and raised on Long Island, New York, J.D. Toepfer graduated from the State University of New York at Stony Brook, earning a political science and history degree. Living in Northern Virginia for the past 25 years, J.D. Toepfer works by day as a risk management specialist, striving to help clients avoid potentially devastating risks. But, at night, he writes paranormal thrillers, which put even his most beloved characters at risk of unspeakable danger.
Please visit his website www.jdtoepfer.com where you can purchase this exciting debut novel.